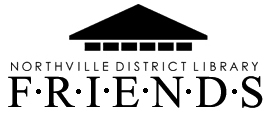 Our Mission: Through fundraising and volunteer efforts, our mission is to promote, support, encourage, and enhance the services of the Northville District Library and to help build a strong relationship between the library and the community of Northville.
The Friends of the Library is an active group of volunteers dedicated to supporting the Northville District Library. The Friends assist the library through fundraising efforts, volunteer work, and act as advocates for the library. The Friends' biggest fundraising efforts center around the used book operations. With a dedicated group of volunteers, we process all donated used books, sell them in the Used Book Cellar, as well as through an outside vendor. Funds are also raised via the annual Friends membership dues. Membership is over 220 members.
How We Help the Library
Annual financial support of Library programs:
$10,500 – Youth, Teen and Adult Summer Reading Programs

$3,500 – Battle of the Books
$ 6,100 – Miscellaneous budgeted items in support of programs, collections and enhancements
Amounts shown below include annual donations plus these special projects/items as noted:
2019: $34,658.74  Circulating Telescopes, Juvenile Playaways, Microfilm Restoration, Local History Photos & Matting, Fixit Bicycle Station, Furniture for Teen area, Barking Book Buddies program, "Every Brilliant Thing" performance
2018: $59,506.31  Friends Community Room furniture and equipment, Merlin Pro text to speech equipment for visually impaired
2017: $22,097.34 Workspace & chairs in Local History room, Reupholstery of wing back chairs
2016: $39,175.00 New meeting Room Chairs, Microfilm Printer
2015: $27,506.00 Stack lights, diaper changing stations, Wayne/Oakland City Plat Books, Book Club Kit bags
2014: $25,559.00 New chairs for public computers and new Youth Area chairs
2013: $34,449.00 New computer workstations for Youth Area
2012: $47,500.00 Northville Record digitization
2011: $62,150.00 Teen Area renovation
2010: $35,000.00  Meeting Room updates
2009: $37,300.00  Youth Area Renovation
1997 – 2008: $253,341.00
1996: $48,223.00 New Library built
1969 – 1996: $65,550.63
TOTAL TO DATE: $792,066.02
Information derived from meeting minutes and Annual Reports.
Become a member! Your dues go towards purchases for the Library, including furniture and equipment, support for the annual Summer Reading Programs, Battle of the Books, and much more. Simply being a member, you add value to your library. Your Friends' membership is tax-deductible.
INDIVIDUAL: $20
FAMILY: $50
PATRON: $100*
LIFETIME: $1000*
TEEN: $5
*Patron and Lifetime members have the option of having their name printed on the Summer Reading Tote Bags every year.
Print a form and mail to:
Membership
Friends of the Northville District Library
212 W. Cady St., Northville, MI 48167
Or purchase your membership or make a one-time or recurring donation via PayPal here. You do not need to have a PayPal account to use this option.
Get Involved as a Friends Member
As a Friends member, you can volunteer as little as an hour a month to a few hours a week or just help with one special event per year.
Help sell used books in the Book Cellar
Sort used book donations
Register kids for the Summer Reading Program
Help at the annual middle school Battle of the Books
Ask us about other ways to volunteer as a Friends member.
Join our Friends Board
We plan special programs for the Library, organize volunteers for Library events, and act as advocates for the Library. We have short meetings once a month (we take the summer off!)
If you have any questions, email our President, Martha Nork.
Officers 2022
Martha Nork – President
Denise Stacer – Vice President
Linda Schwelnus – Treasurer
Open Position – Secretary
Program Chairs
Claire Kreher – Gift Book Program
Christine Litka – Public Relations & Newsletter
Carol Murray & Kathy Fox – Membership
Will & Linda Bastien – Used Books
Denise Stacer – Scholarships & Read to Me
Betty Kaiser – Volunteer Coordinator
Board Members-at-Large
Linda Bolam
Charlene Cach
Regina Mingela
Rick Nork